PHOENIX OUTLAWS
CHAMPIONSHIP
RING CEREMONY
ceremony starts at 4:00 pm
We would like to thank Karen Krinsky for providing our venue!!!
Contact Coach John for details: phxout@msn.com
The Phoenix Outlaws are proud to introduce
is an official sponsor for 2015
2015 PHOENIX OUTLAWS PRACTICE
On October 4th 2014 and every Saturday there after at 8:00 am, the Phoenix Outlaws will be practicing and starting our 17th season. Every player will be required to fill out paperwork as well as put a $150.00 non-refundable deposit down prior to taking the field! Bring cleats, water, helmet, and a championship desire! Roster spots and jersey numbers are limited, so do not wait to join up! You will be allowed to select your jersey nuber when your team fee of $250.00 is complete starting on Wednesday November 19th.
ALFRED F. GARCIA ELEMENTARY
It is on 27th ave just south of Buckeye Rd.
CHAMPIONSHIP GAME HISTORY
TRIP THROUGH OUTLAWS HISTORY!
Outlaws helmets are hydrographic dipped paint by:
DHP -
DIPOLOGY HYDROGRAPHICS PLUS
Contact:
Nick Temporaro (602) 329-2020
dipologyhgp@gmail.com
THE QUEST HAS BEGUN
Your either with us...
or
Be run over, by us!
Manditory practice has begun:
27th ave and Buckeye Rd. PHX AZ
Bring: cleats, helmet, water, HEART!
Every player will be required to pay a team fee of $250.00 then get on on the field and earn a starting job. Simple... either your an Outlaw... or your not! The Phoenix Outlaws are not just a place to work out. This is a serious championship caliber team with serious goals. We only take players with the same mind set. We are looking for our fourth straight championship appearance and third title! Roster will fill up fast and then be locked. Year 17 of your PHOENIX OUTLAWS!

championship endzone
END OF THE YEAR/KICKOFF PARTY
Just like the last 13 years at the Venue - a huge success!
Thank you to the Venue Of Scottsdale!
Congratulations to all Outlaw award winners!
NOBODY takes care of their players
like the Phoenix Outlaws - NOBODY
Be part of something special...
"OUTLAWS 4 EVER"
Phoenix Outlaws Mini Helmet: $24.50
Phoenix Outlaws Mini Helmet Lamp: $60.00
Phoenix Outlaws Bubblegum Helmet: $3.50
Available at: www.pigskinhelmets.com
http://pigskinhelmets.com/men-s-semi-pro/phoenix-outlaws/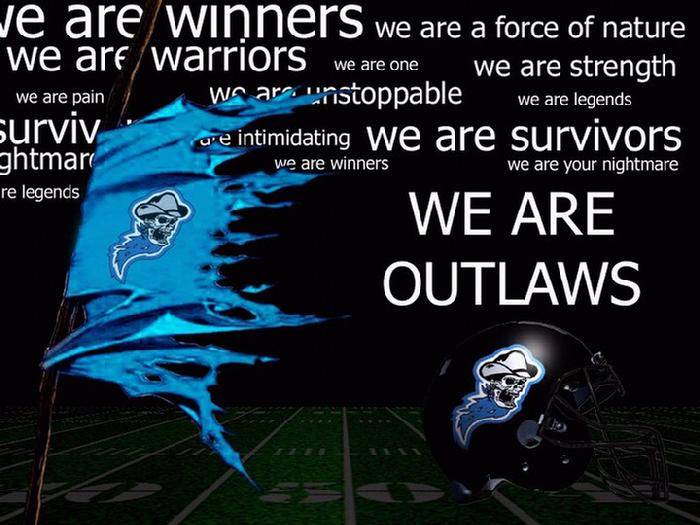 provided by: Jeremy Tolliver
CLICK ON THE LINKS TO THE LOWER LEFT FOR MORE INFORMATION:
THE PHOENIX OUTLAWS AND THE ARIZONA GRIDIRON FOOTBALL LEAGUE ARE PROUD, AND THANKFULL FOR ALL OUR SPONSORS!

THE OFFICIAL EATERY OF THE PHOENIX OUTLAWS.
PHOENIX OUTLAWS WEB PAGE UPDATED BY JOHN POLCHIN 602-561-5912