15th year anniversary helmet for 2013
And now...
mixing the silver and black
for the most state of the art look
in the history of adult amatuer football...
The 2013 15th year anniversary helmet!
Outlaws helmets are hydrographic dipped paint by:
DHP -
DIPOLOGY HYDROGRAPHICS PLUS
Contact:
Nick Temporaro (602) 329-2020
dipologyhgp@gmail.com
THE QUEST HAS BEGUN
Your either with us...
or
Be run over, by us!
CHAMP CAMP 2013
Manditory practice has begun:
19th ave and Durango PHX AZ
Bring: cleats, helmet, water, HEART!
Every player will be required to fill out a registration form prior to getting on the field. Simple... either your an Outlaw... or your not! The Phoenix Outlaws are a place just to work out. This is the serious defending champions with a goal. We only take players with the same mind set.

championship endzone
PHOENIX OUTLAWS FOOTBALL CLUB!
PRACTICE STARTS OCTOBER 6TH 2012!
THE PHOENIX OUTLAWS WILL BE PRACTICING FOR
Only serious championship caliber players need to attend.
OFFENSIVE/DEFENSIVE LINEMAN NEEDED!





EVERY SATURDAY
8:00 AM
ARTHUR HAMILTON ON THE FIELD
Jersey numbers will be issued as your fees are paid...
First come first serve, rookies included!
NO jersey numbers will be held!
The team fee is $225.00 go to the "New Player" page for details.
You can meet me, or mail it to beat the rush for your JERSEY number:
John Polchin / Phoenix Outlaws
www.phoenixoutlaws.com (you are here)!
WE WILL BE IN SHORTS AND T-SHIRTS TO START, BRING YOUR OWN WATER.
"OUTLAWS 4 LIFE"
ARTHUR M. HAMILTON ELEMENTARY
19th AVE & DURANGO
2020 W. DURANGO ST.
PHOENIX, AZ 85009
PRACTICE FACILITY & HOME OF:
THE PHOENIX OUTLAWS FOOTBALL CLUB
END OF THE YEAR/KICKOFF PARTY
Just like the last 13 years at the Venue - a huge success!
Thank you to the Venue Of Scottsdale!
Congratulations to all Outlaw award winners!
NOBODY takes care of their players
like the Phoenix Outlaws - NOBODY
Be part of something special...
"OUTLAWS 4 EVER"

PHOENIX OUTLAWS WILL BE STARTING YEAR 15
The 2013 season will be here before you know it! The Outlaws will start practice every Saturday at 7:00 am. Each player will be required to go to the league web site

www.arizonagridiron.com

and register. There is a fee of $75.00 On December 1st the fee will be &125.00 get it in early to become elligable to become a player in the ARIZONA GRIDIRON LEAGUE the only AAA ranked league in the state. Details will be on the "New Player" section of our web site. ALL POSITIONS are wide open for competition! For you to grab one of the starting spots for 2012 you MUST be there early! GET YOUR MIND RIGHT**** RIGHT NOW! and let us continue where we left off! - Coach John Polchin 602-561-5912 phxout@msn.com

Even though the Outlaws have been one of the longest continued run franchises with all of it's history and tradition... every player on our roster has a chance to compete for a starting job. Last season 11first year players started! If you have what it takes, you can to.
PRACTICE SCHEDULE
EVERY SATURDAY STARTING OCTOBER 6th @ 8:00 AM.
WEEKLY WEDNESDAY PRACTICES START ON NOVEMBER 9TH @ 7:00 PM.


BRING WATTER, & ATTITUDE!
SHELLS (HELMETS) 10/1/11 THROUGH 10/29/11
FULL PADS: 11/5/11 THROUGH THE CHAMPIONSHIP GAME
.




Outlaws Car Wash

Huge success! Thank you to all players, coaches, and customers for making the day so special! Great job guys,



Phoenix Outlaws Mini Helmet: $24.50
Phoenix Outlaws Mini Helmet Lamp: $60.00
Phoenix Outlaws Bubblegum Helmet: $3.50
Available at: www.pigskinhelmets.com
http://pigskinhelmets.com/men-s-semi-pro/phoenix-outlaws/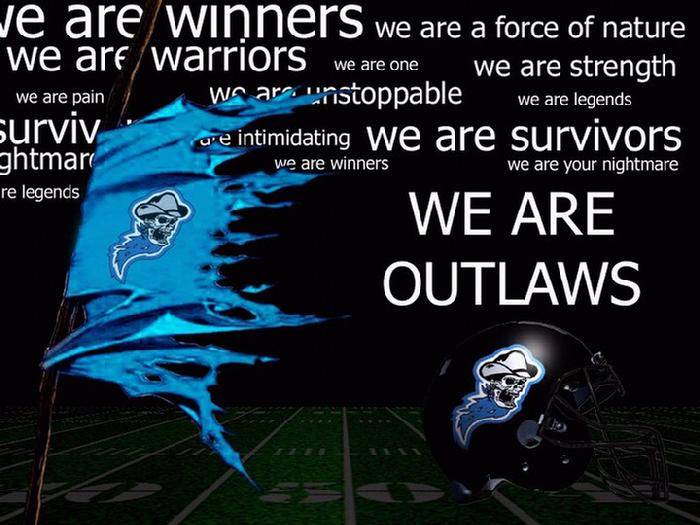 provided by: Jeremy Tolliver
CLICK ON THE LINKS TO THE LOWER LEFT FOR MORE INFORMATION:
THE PHOENIX OUTLAWS AND THE ARIZONA GRIDIRON FOOTBALL LEAGUE ARE PROUD, AND THANKFULL FOR ALL OUR SPONSORS!

THE OFFICIAL EATERY OF THE PHOENIX OUTLAWS.
PHOENIX OUTLAWS WEB PAGE UPDATED BY JOHN POLCHIN 602-561-5912